MFG Vial Trays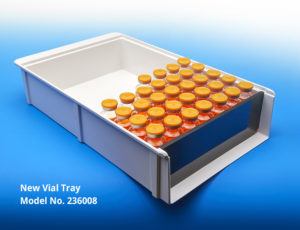 MFG are the market leaders with composite plastic vial trays.
These trays can be used for more than just loading – Typical common practice is the use of metal trays for autoclaves, but these carry a cost of 4-8 times that of MFG vial trays, which can be used for the same purpose.
The MFG vial trays can be used in environments of at least up to 130 deg C. As autoclaves typically run at only 120 deg C for 15 minutes the MFG composite plastic can be used for both loading and sterilization thus providing great efficiencies and are much more cost effective than metal tray equivalents.
MFG Tray composite plastic Vial Trays are already in operation with Pfizer, Bayer, Abbvie and Merck.
MFG composite plastic Vial Trays have the following features –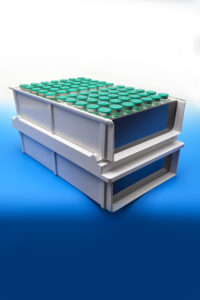 Tapered front lip for easy loading
They can replace existing metals trays and will not corrode or dent
Easy stacking without warping or distortion
Smooth, non-porous and easy to clean
Temperature range continuous -51 deg C to 121 deg C
Special formulations available for temperatures between 148 deg C and 204 deg C
Suitable for automated handling, lyophilisation (low temperature dehydration process achieved by freeze drying), autoclave, storage and transport.
Available in White, Grey, Beige, Light Blue, Light Green, Red or Yellow colour
GATE OPTIONS:
Polypropylene for normal use in temperatures less than 82 deg C.
Polycarbonates or stainless steel for temperatures exceeding 82 deg C